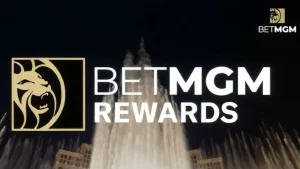 BetMGM Casino Michigan is a joint move between MGM Resorts International and Entain Holdings, that operates as the primary online betting business under the MGM brand, providing sports betting, casino gaming, and online poker. As a result, it's easy to confuse the BetMGM Rewards and MGM Rewards programs. However, there are primary distinctions between the two that must be recognized in order to get the most from both. Here's a comparison of BetMGM Rewards and MGM Rewards and an answer to the question "Is MGM rewards free."
The Distinction Between BetMGM and MGM Rewards
There are a few significant distinctions between BetMGM Rewards and MGM Rewards. Here are the main points:
Bet MGM Rewards are earned by placing bets online using the BetMGM app or website.

MGM Rewards are earned by gambling in person at MGM Resorts facilities.

MGM benefits points can be redeemed for credit card benefits.
Essentially, BetMGM Rewards clients get points solely by gaming. In contrast, MGM Rewards customers receive points through both gambling and spending money on their MGM Rewards credit card.
MGM Rewards points can also be earned at MGM-owned online casino brands such as Borgata Casino and Borgata Bingo, where players can earn both Borgata Bucks and MGM Rewards points.
100% Deposit Match Up To $1,000 + $25 On The House
Similarities With BetMGM Rewards and MGM Rewards
The significant similarity between BetMGM and MGM Rewards is that both may be earned through the three BetMGM platforms:
BetMGM Rewards points can be turned into free play credits or hotel accommodations, food, beverages, and other services at MGM Resorts hotels and partners.
What exactly is BetMGM Rewards? What became of M Life?
BetMGM Rewards is the company's new rewards program. BetMGM Rewards Points and MGM Tier Credits will be awarded to program participants.
With each unlocked tier, the tier credits provide more perks and access. Internet Reward Points were previously known as BetMGM Rewards Points.
MGM Resorts' previous reward program, M Life, has been renamed MGM Rewards. Any points earned through the M Life program will be converted to MGM Rewards points.
When players create a new BetMGM account, they are also given an MGM Rewards account. If a new BetMGM user currently has an MGM Rewards account, it will be matched up upon registration.
100% Deposit Match Up To $1,000 + $25 On The House
Is the MGM Rewards MasterCard a Good Investment?
If you enjoy free cruises and vacations or are a frequent gambler, signing up for the MGM Rewards program and obtaining a credit card may be a good choice. Not only does it act like a regular credit card, but you'll also receive privileges such as free hotel stays, BetMGM birthday bonus, concert tickets and VIP passes, all-inclusive trips, and more.
Furthermore, MasterCard, like Visa, is virtually always accepted anywhere credit cards are accepted, so you won't have to worry about it not being acknowledged like AmEx or Discover, and MGM credit card benefits.
How do I Accumulate BetMGM Rewards Points?
To be awarded BetMGM points and MGM Tier credits in Michigan along with other participating states, customers can utilize the MGM rewards app to play online casino games, play poker, and make wagers.
Players can also earn points by placing bets in person at BetMGM Sportsbook locations; however, be careful to verify ahead of time as rules may differ by location.
BetMGM Rewards Points can be used for online free play or transferred into MGM Rewards Points. M Life Rewards tiers can be redeemed for hotels, dining, and other services at over 20 MGM resorts.
BetMGM Rewards Tiers
Sapphire Tier

: 0-19,999 Tier Credits

Pearl Tier

: 20,000+ Tier Credits

Gold Tier

: 75,000+ Tier Credits

Platinum Tier

: 200,000+ Tier Credits

Noir Tier:

 Invitation Only
100% Deposit Match Up To $1,000 + $25 On The House
How does the Tier System Function?
MGM Tier levels credits are earned when players earn either BetMGM Rewards points or MGM Reward points. Every new MGM tiers level comes with its own set of benefits.
Sapphire requires 0-19,999 tier credits; Pearl requires 20,000+ credits; Gold requires 75,000 credits; Platinum requires 200,000 credits; and MGM Noir card is an invitation-only level.
Each MGM rewards levels differ slightly. For example, users with BetMGM tier credits might be eligible for a free birthday bet that can vary from MGM rewards points per dollar, $5 for the sapphire level to $200 for Noir.
The best MGM Rewards tier benefits begin at the Pearl level and above. They can range from MGM rewards card complimentary concert tickets (all levels except Sapphire) to my MGM rewards free valet parking (gold members and above).